We might all have a rough idea what a project manager is. But while most know what a project manager is, not everyone knows exactly what a project manager does day-to-day in their role.
The thing with project management courses online is that it's multifaceted and can change markedly depending on the type of business you work for and the types of projects being carried out.
Table of Contents
So if you're wondering what a project manager is, there may not be a short, one-size-fits-all answer. But that's what makes project management so exciting!
What is a project manager? The short version
At their core, a project manager is a professional tasked with planning, executing, monitoring, controlling, and closing projects.
It might help to think of project managers as both the navigator and captain of a ship, charting the course of the project while ensuring that every team member is aligned and moving towards a common goal.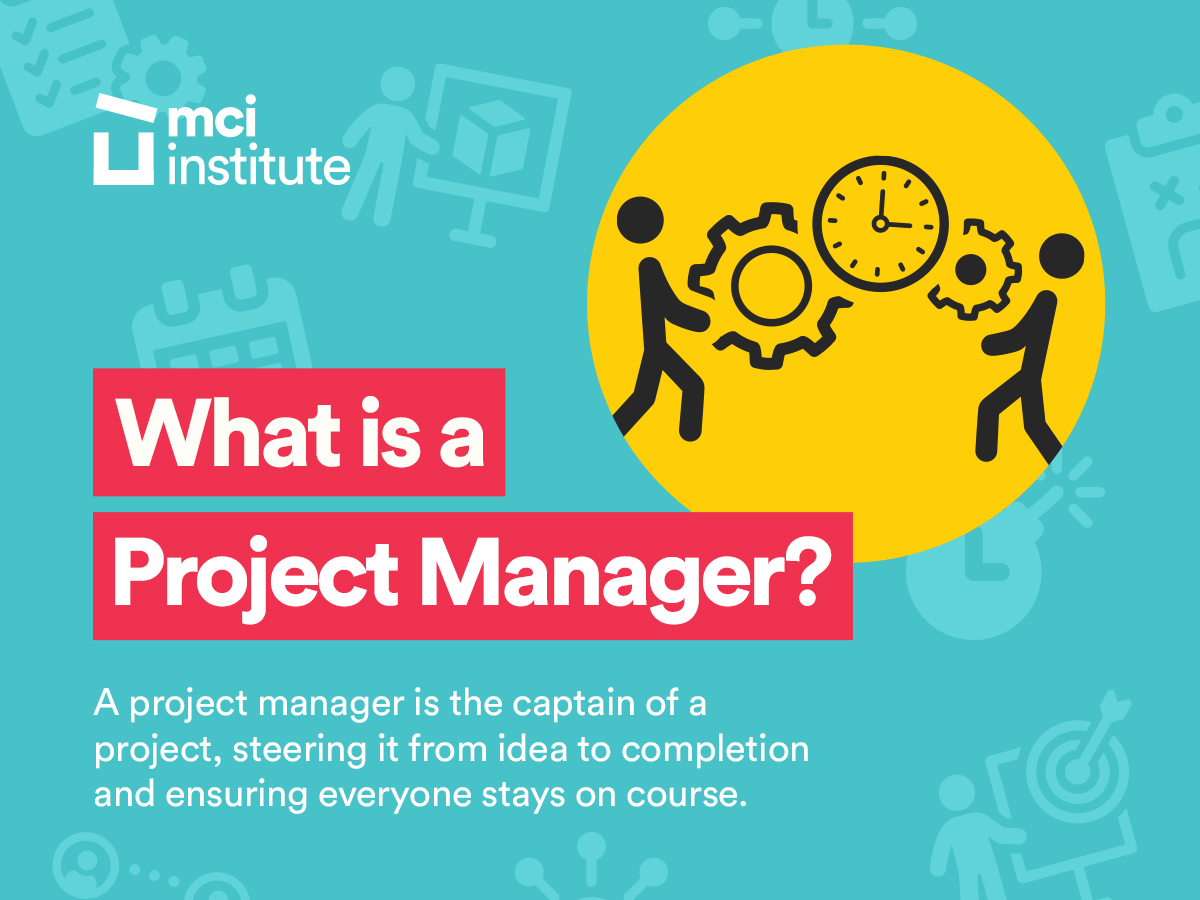 At the heart of the role lies the responsibility to define the project's scope, allocate resources, and set realistic timelines, ensuring the project remains within its constraints - be it budget, time, or quality. Their expertise encompasses risk management, where they anticipate potential pitfalls and devise strategies to mitigate them.
As communicators, they bridge gaps between stakeholders, maintaining a clear flow of information and managing expectations. They constantly monitor project progress, making adjustments where necessary and ensuring that project deliverables adhere to predefined standards and meet the stakeholders' needs.
Project managers also foster a conducive work environment, encouraging teamwork, resolving conflicts, and driving the project forward with a blend of leadership, foresight, and strategic thinking.
In essence, they embody a unique mix of technical prowess and soft skills, making them indispensable in turning visions into tangible outcomes.
A project manager's role in the project life cycle
While projects can differ pretty significantly, most will follow a very similar life cycle, no matter the end project goals. And within this project life cycle, a good project manager will need to wear many hats.
1. Initiation phase
This is the starting point of any project. This phase involves determining the nature and scope of the project, outlining its objectives, and justifying its feasibility. Key activities might include feasibility studies, defining high-level project requirements, and evaluation potential risks.
The role of a project manager in this phase is to:
Identify stakeholders

Develop a business case to justify the need for the project

Outline the project's vision, objectives, and high-level requirements

Identify potential risks and ways to mitigate them early on

Develop a project charter, which is a formal document that gives the project the green light to go ahead
2. Planning phase
Once the project has been defined, the planning phase involves detailing how the project will be carried out - from resources needed to timelines.
The role of a project manager in this phase is to:
Determine the necessary resources, such as personnel, equipment, and budget

Develop a detailed project timeline with milestones

Identify risks in more detail and plan how to manage them

Estimate the costs and develop a budget

Determine how communication will occur throughout the project
3. Execution phase
This is where the project plan is put into action. The execution phase involves managing people, resources, and stakeholder's expectations, ensuring the project remains on track.
The role of a project manager in this phase is to:
Lead the project team, ensuring everyone understands their roles and responsibilities

Keep stakeholders informed and handle any concerns

Ensure that deliverables meet the set standards

Adjust plans based on unforeseen challenges or changes in scope
4. Monitoring and controlling phase
This phase runs concurrently with the execution phase. It involves tracking, reviewing, and regulating the project progress and performance of the project, ensuring that everything aligns with the plan.
During this phase, a project manager will:
Use KPIs and other metrics to track performance

Ensure that project deliverables maintain the desired quality

Monitor for any new project risks or changes in previously identified risks

Manage how any potential required changes are incorporated, using minimal disruption
5. Closing phase
The closing phase signifies the completion of the project. It's a wrap-up phase where the project manager ensures all work has been done to the set standards and stakeholders are satisfied.
During closing phase, a project manager will:
Assess whether the project objectives were met and review overall performance

Ensure all project documents are finalised and archived for future reference

Release resources from the project (e.g. team members, equipment, tools)

Seek formal approval from stakeholders and confirm that they're satisfied with the deliverables

Conduct a post-project review to understand what went well and what could be improved in future projects
Project management roles
Project management can vary depending on the industry, the nature of the project, and the methodologies adopted. Below are a few examples of different types of project managers, but remember: the sky's the limit.
IT: in IT, you'll manage IT projects, including software development, hardware installations, network upgrades, cloud computing, and software implementation
Construction: oversee construction projects from inception to completion
Engineering: responsible for technical engineering projects like product development or manufacturing
Health care: manage projects within the healthcare sector, like hospital expansions, health information system implementations, or clinical trials
Finance: handle projects related to banking, investments, or other financial operations
Energy: manage projects in the energy sector, including oil and gas, renewable energy, and utilities
Marketing: manage marketing campaigns, product launches, and more
Consulting: work in a consultancy firm and oversee projects for other businesses
Change projects: specialise in change management projects, guiding organisations through major transitions or transformations
This list is by no means exhaustive, but it gives you an idea of the diversity of project management and that your skills can really be applied anywhere.
Why become a project manager?
Being a project manager comes with a wide range of benefits, both professional and personal. Key advantages include:
Career advancement: project management is a skill that's in demand across many industries. Demonstrated success as a project manager can open doors to leadership positions and new opportunities
Diverse opportunities: with project management skills, you can work in a variety of sectors, from IT and construction to healthcare and finance. This diversity can lead to a rich and varied career
Skill development: as a project manager, you'll wear many hats, which means you'll require a diverse skill set, from risk management and quality assurance to stakeholder communication and team leadership.
Increased earning potential: as a sought-after profession, project managers often command competitive salaries - especially if they earn certifications like PMP or PRINCE2
Network building: leading projects exposes you to a range of different professionals, from team members to stakeholders, which inevitably leads you to build a robust professional network
Sense of accomplishment: there's a tangible sense of achievement in seeing a project move from initiation to completion, especially when overcoming challenges along the way
Problem-solving skills: regularly faced with challenges, you'll become an adept problem solver, a skill that's beneficial in both professional and personal settings
Autonomy: while you'll need to work within the confines of budgets, timelines, and stakeholder expectations, you'll also enjoy a degree of autonomy in how you approach and execute your projects
Continuous learning: the dynamic nature of projects - especially in sectors where technology or regulations are rapidly changing - means you'll be continuously learning
Transferable skills: your project management skills, from leadership and time management to stakeholder communication, are transferable and valuable in many other roles and industries
Personal growth: handling diverse teams, meeting tight deadlines, and managing conflicts helps foster personal growth and will improve your patience, resilience, and empathy
Global opportunities: with the universality of project management methodologies, you can work almost anywhere in the world
A real impact: you'll play a pivotal role in shaping the direction and outcome of projects
Essential project management skills
There are a number of skills you'll need to have or develop as a project management professional. Here are a few: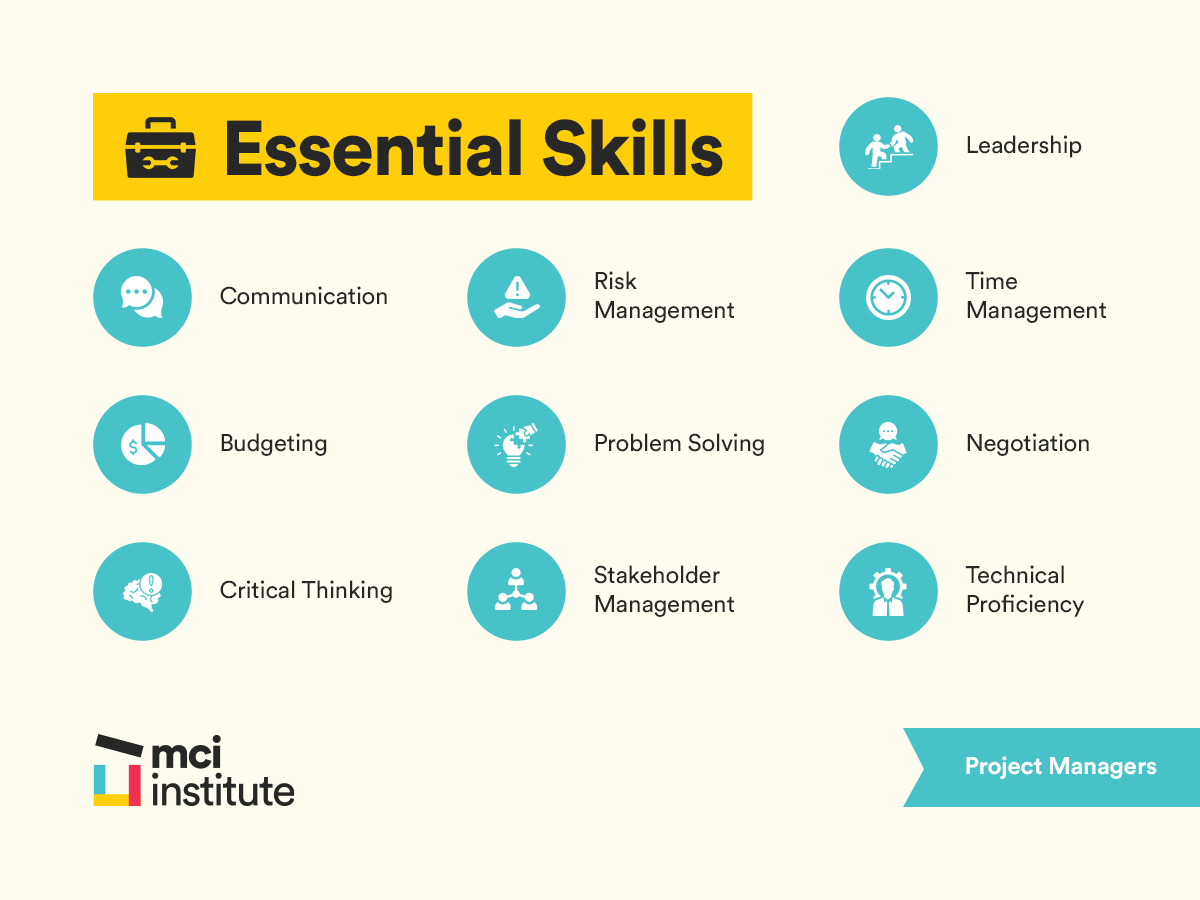 Leadership: inspiring and motivating team members, guiding them towards a unified goal
Communication: articulating ideas, project goals, and updates clearly to stakeholders, team members, and other relevant parties
Risk management: identifying potential pitfalls and devising strategies to mitigate or respond to them
Time management: efficiently allocating time to various tasks, ensuring that projects stay on schedule
Budgeting & cost management: developing and adhering to budgets, ensuring projects remain within financial constraints
Problem solving: quickly finding solutions to issues that may arise during the project life cycle
Negotiation: striking a balance between the needs of stakeholders, team members, and the project's constraints
Critical thinking: analysing situations and making decisions that benefit the project
Task prioritisation: determining the importance and order of tasks to achieve project goals efficiently
Stakeholder management: building and maintaining strong relationships with everyone involved in the project
Team management: overseeing and directing the project team to ensure everyone is contributing effectively
Technical proficiency: depending on the industry, understanding specific tools, software, or methodologies related to the project
Quality management: ensuring the deliverables meet the desired standards and stakeholder expectations
Scope management: clearly defining what the project will achieve and ensuring it doesn't deviate from the scope
Decision making & adaptability: making informed decisions quickly and changing it up where needed
Organisation: keeping tasks, timelines, and documentation in order
Project management methodologies
In addition to the above pathways, you may also consider getting certification or training in a specific project management methodology. Some popular project management methodologies include:
PRINCE2 (PRojects IN Controlled Environments): A process-driven method originating in the UK. It divides projects into clearly defined stages with specific objectives.
Praxis Framework: A free, community-driven framework that integrates project, programme, and portfolio management with agile approaches, offering a unified, adaptable method for project delivery.
PMBOK Guide (Project Management Body of Knowledge): Developed by the Project Management Institute (PMI), this guide sets out standardised best practices and processes for project management and is globally recognised in the industry.
TenStep: A comprehensive methodology designed for project management, TenStep emphasises flexibility and can be tailored to different project sizes, ensuring efficient and consistent project delivery.
ISO 21502:2020: An international standard that provides guidance on concepts and processes of project management, promoting efficiency and consistency across different projects and sectors.
READ MORE about the different project management methodologies.
Pathways to becoming a project manager
Becoming a project manager in Australia involves a combination of education, experience, and sometimes formal certification.
Generally speaking, most employers will expect that you have a higher education degree in project management or a similar discipline. Industry relevant certifications are also looked favourably upon.
The pathway may look something like:
Complete a Certificate IV in Project Management Practice Online. This not only equips you with the skills you need in a project manager role, but also helps to make you stand out in an increasingly competitive market
Consider getting a higher qualification. This may be a Diploma of Project Management Online or Bachelor of Business (Management), or it may even be acquiring a Masters of Project Management.

Consider obtaining a widely recognised certification, such as the Project Management Professional certification

Secure national accreditation through the Australian Institute of Project Management (AIPM).
READ MORE: 7 Surprising Ways a Project Management Course Can Benefit You
Project manager salary
Project manager salaries can differ significantly depending on the types of projects and the industry.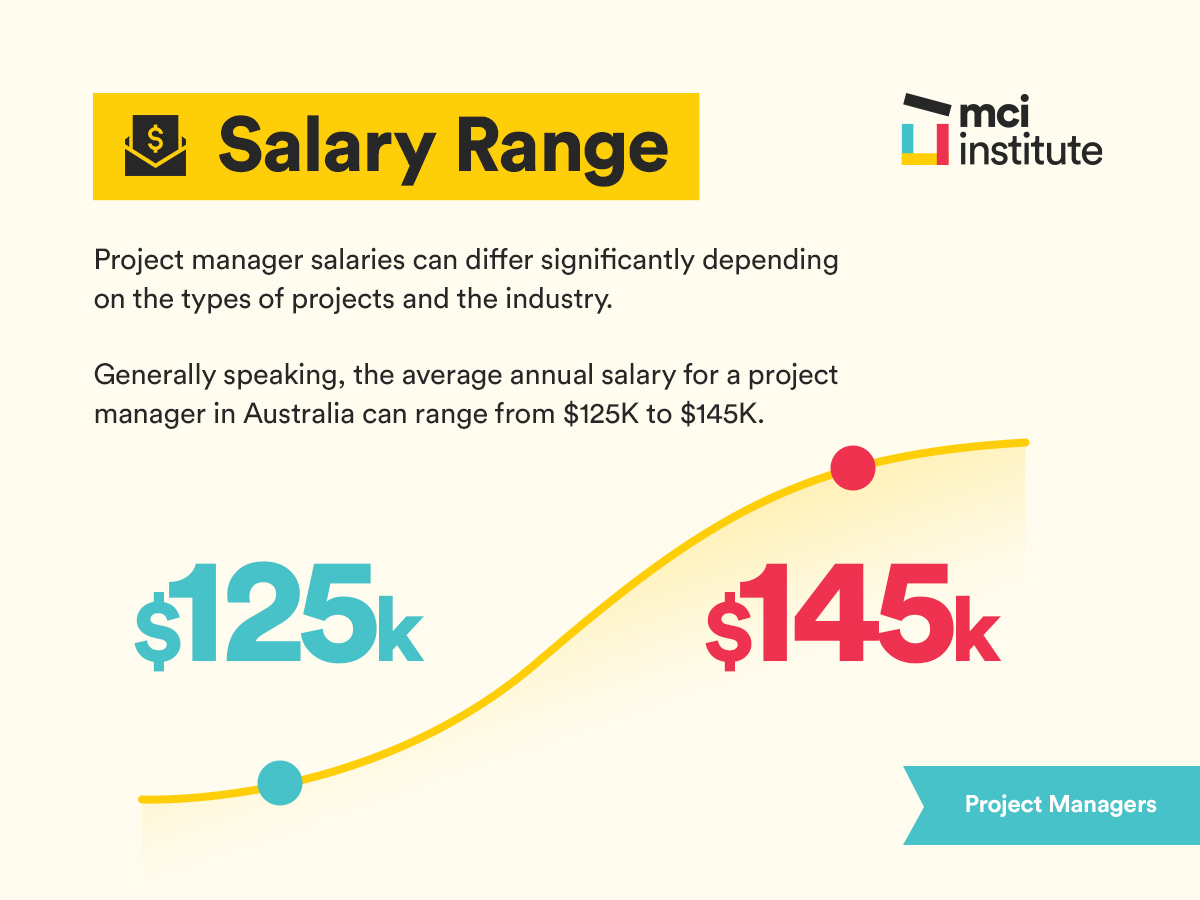 Generally speaking, the average annual salary for a project manager in Australia can range from $125K to $145K.
Project manager resume tips
When it comes to writing a resume for a project management position, all usual resume tips apply.
READ MORE: Our 10 Step Guide For A Solid Resume That Gets You The Job
Make sure you quantify your achievements, and use numbers to showcase your impact. For example, you may have managed a project budget of $30,000 or delivered five projects 10% under budget.
Make sure you also highlight any certifications you have in project management, including methodologies you have experience in.
Also ensure you're listing any tools or project management software you're familiar with, like MS Project, Trello, or JIRA.
Don't forget your soft skills! Soft skills can be just as important, and can help you stay ahead of the pack when it comes to applying for jobs.
Project manager interview questions
If you're interviewing for a project management position - congratulations! It's an exciting time. The best way to prepare yourself is to familiarise yourself with the types of questions you may be asked. Use the below as a bit of a guide.
How do you define success for a project? What kind of metrics do you use?

Can you describe a project you've led from initiation to completion?

Describe a time when a project didn't go as planned. How did you handle it?

What project management methodologies are you most familiar with?

How do you prioritise tasks and projects when everything seems like a priority?

How do you handle a team member who isn't contributing as expected?

Describe a time when you had to manage a project with limited resources.

How do you motivate a team, especially when facing challenging or stressful situations?

How do you manage and assess project risks?

How do you ensure all team members understand and are aligned with the project's objectives?
There are many other potential questions an interviewer may ask you, so think specifically about the role you're applying for. It's also helpful to read through the role description or KPI list and think of examples of the different ways you have achieved this in the past.
Take the next step in your project management career
Ready to take your project management skills to the next level and stand out in the industry? Completing a project management courses online with MCI Institute is a step in the right direction. Dive deep, learn from the best, and become the project manager everyone wants on their team. Explore our project management courses today!
Excited to showcase the role of a project manager on your website? Go ahead and embed this infographic with ease! Just copy and paste the HTML code provided below into your site's code, and you're all set to share this insightful visual with your audience.
<iframe style="width: 725px; height: 2520px; overflow: show; border: 2px solid #000;" src="https://2552316.fs1.hubspotusercontent-na1.net/hubfs/2552316/What%20is%20a%20project%20manager%20Infographic.jpg" width="100" height="100" scrolling="yes"></iframe>