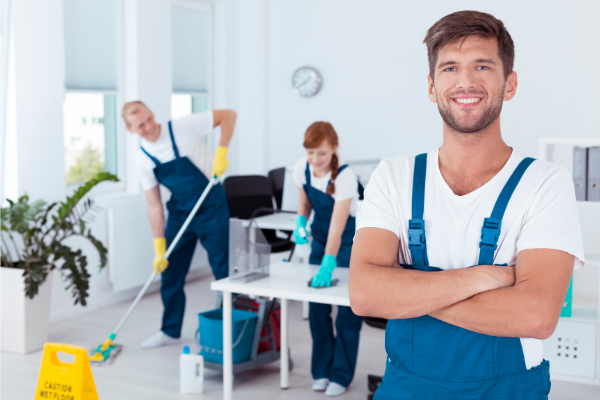 A commercial cleaning firm provides affordable entry expenses and a straightforward set of skills to learn for people who want to be self-employed and self-sufficient. You don't need a company location to get started and can work part-time while still holding a full-time work position. That's possible because most business owners prefer getting their premises cleaned after hours.
There are legal requirements for registration, taxation, and insurance like any other business. Before you start, it would help if you got acquainted with contracts, employment, fair commerce, debt, and credit management.
Table of Contents
Since clients must provide access to their homes or company premises regardless of whether you begin with house cleaning or commercial cleaning, trust is crucial. You must begin with a service-oriented mindset and guarantee that prospective clients can rely on you as an honest and trustworthy service provider.
What is a Commercial Cleaner?
As a commercial cleaner, you are responsible for cleaning business buildings such as retail shops, offices, and medical institutions. Your responsibilities for this position include:
- Analyzing the area

- Devising and implementing a cleaning strategy

- Ensuring the premises satisfy the client's cleaning requirements
Qualifications vary depending on the company, but they often involve high school graduation, attention to detail, and the ability to undertake manual labor for a lengthy amount of time. Larger commercial cleaning businesses frequently provide on-the-job training.
How to Become a Commercial Cleaner
Formal credentials are not necessary to become a commercial cleaner. However, certain companies may demand a police check depending on your job. A year ten education is often essential to work as a Cleaner. Obtain on-the-job training and work experience in the field. If you wish to formalize your knowledge, consider pursuing skill training in cleaning operations courses.
How to Get Started as a Commercial Cleaner
In general, you should get acquainted with the following Australian business requirements: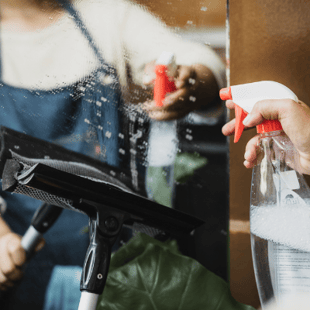 - You must register any assigned and used business name(s) with the Australian Securities and Investments Commission as well as a designated company number. You don't need to register in each State or Territory jurisdiction once incorporated under the Corporations Act 2001
- There is no need to register a business name if you operate your business under your name or the name of a business partner
- If you want to elevate your company from the rest, make sure to register your company name as a trademark with IP Australia
- You must also register for Goods and Services Tax (GST) if you expect your annual profits to exceed $A50,000. This registration also necessitates the assignment of an Australian Business Number (ABN), which can be completed online through the Australian Business Register
- Use your tax identification number (TFN)if you run your firm as a sole proprietor. On the other hand, partnerships and registered corporations must apply for a separate tax identification number. More information on this is available at the Australian Taxation Office
- Check with your local council regarding zoning, health rules, and if you need to start your company in the region
Task and Duties as a Commercial Cleaner
As a commercial cleaner, it is your task to:
- Clean specific, agreed-upon areas by tidying, sweeping, mopping, disinfecting, dusting, polishing, and deodorizing

- Empty rubbish from bins, ashtrays, and waste containers, and clean and replace receptacles

- Be entirely responsible for the premises where you work. Ensure that the building is properly closed and secured at the end of your shift. Notify your management of any violations
Equipment Needed to Start this Business
The equipment and materials required for standard commercial cleaning are listed below. Carpet cleaning, exterior cleaning, and window cleaning require specialized equipment, not included in this list.
- Commercial-grade vacuum cleaners

- Machines for polishing commercial floors

- Rubber gloves

- A mop and bucket, as well as a mop bucket squeezer

- Swabs and rags

- Squeegee

- Dust mops, both wet and dry

- Non-toxic cleaning solutions. Use typical commercial cleansers or go green by using eco-friendly solutions.

- Dusting wand

- Trash collection container and

- Waste bags

- Danger/Wet Floor Signs
Types of Insurance Needed as a Commercial Cleaner
You can get all or a combination of the following types of coverages:
- Public and legal responsibility insurance: This coverage protects you against damage to client premises or equipment and unintentional harm to people unrelated to your business. It may be divided into three distinct areas: legal liability, public liability, and goods liability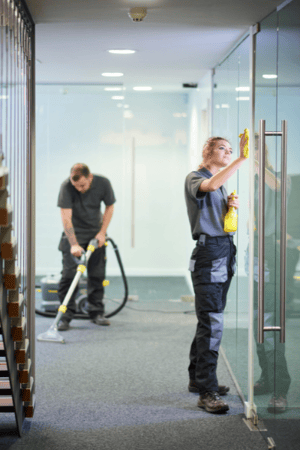 - Insurance against fire, storm, and tempest: A basic fire policy should cover storm damage, deliberate damage, vandalism, and accidental damage. Make sure damage to glass windows and signs is also covered

- Insurance against burglary: This sort of insurance protects against the theft of money, equipment, and items housed at any specified location

- Insurance for business disruption: This sort of insurance pays you for a revenue loss due to damage to your commercial property

- Insurance for commercial vehicles: This insurance coverage protects you in case of accidents, theft, or fire to your car

- Life insurance and income protection insurance: for salaried or self-employed people
Skills that are Required to be a Commercial Cleaner
You must be skillful and always remain professional when doing business as a commercial cleaner. You are dealing with corporations and working in a professional environment.
Time Management Skills
It's imperative that you work as a business cleaning firm with excellent time management abilities and can be readily educated or directed. Company owners have minimal time at each client meeting and should not have to handle every step in the cleaning process.
You must complete the assigned cleaning assignment before deadlines as a cleaning partner. You don't want to be known as commercial cleaners who are late and make your clients and their premises look bad at critical business meetings.
Administrative Skills
Cleaning isn't the only aspect of the janitorial profession. A commercial cleaner should have excellent organizational skills. This process includes making critical decisions about which activities to complete first, prioritizing tasks, and who to delegate for essential cleaning jobs.
As the cleaning company owner, recruit people with a strong understanding of administrative work to promote people within your organization. You can advance the same staff to higher positions as they prove their skills.
It is also necessary to have solid administrative abilities to manage, schedule, and document the cleaning materials provided and the quantity of personnel allocated to the cleaning task for each specific customer.
Multitasking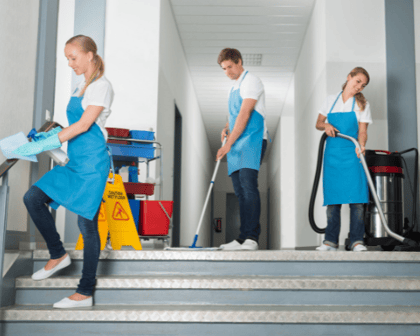 The two most significant qualities that every recruitment manager looks for in a candidate are multitasking and adaptability. In the commercial cleaning industry, janitorial staff must be able to embrace new cleaning difficulties, go outside of their comfort zone while cleaning messes, and work in demanding settings. All of these situations necessitate tremendous adaptability.
Accepting new difficulties every day is an essential component of commercial cleaning jobs since staff typically operate in a varied work environment, client locations, and during several shifts. As a result, you must become a commercial cleaning partner with excellent multitasking abilities to manage any cleaning issue.
Can Work Alone
Commercial cleaning companies routinely undertake on-the-job training sessions to familiarise new hires with the work and enhance their general cleaning abilities.
These on-the-job training programs help cleaning employees stay responsible, organized, dependable, and self-sufficient to do cleaning work at any tough client location and satisfy clients in the commercial cleaning sector.
Discretion
As a cleaning company, your corporate partner has entrusted your cleaning crew to act pragmatically. Employees in a commercial cleaning firm are frequently left alone to clean working areas of corporate facilities.
You want your business cleaning employees to remain professional and discrete, especially if they come upon sensitive information on company property. Staff must avoid touching or stealing private documents or valuable office objects. Acting inappropriately or impulsively; or vandalizing property should never be tolerated.
Conclusion
Getting started with a commercial cleaning business can be a hectic process, and you might be clueless in many places while beginning a career as a commercial cleaner. MCI Institute is a one-stop solution for getting all the information you need. Also, you can obtain a professional certificate in commercial cleaning to prove your credibility to other corporate companies.
Click below to access our course page.